I love trying new (to me) things out on the smoker. I subscribe to
Patio Daddio's blog
(and so should you), and when he posted a recipe for making homemade pastrami, I was all over it.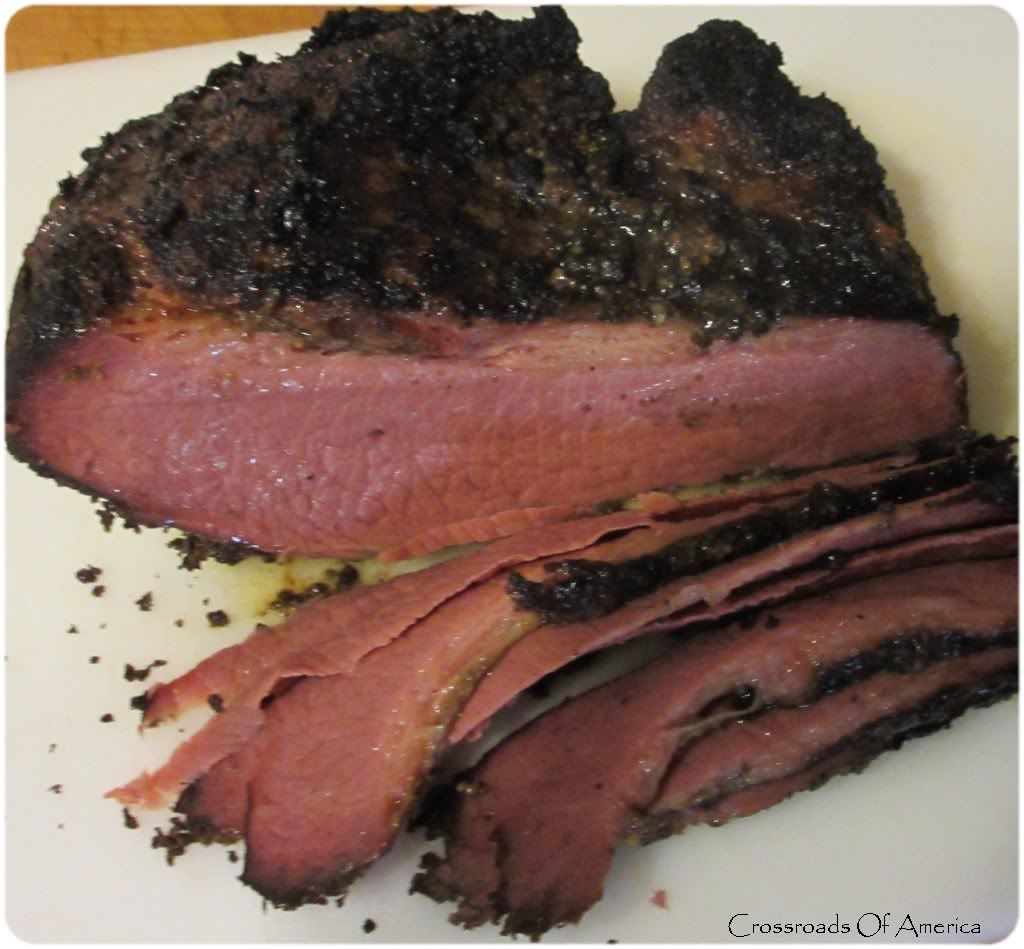 I ended up combining
John's (from Patio Daddio) approach
and
the approach on my favorite Weber Smoky-Mountain-related site
, the Virtual Weber Bullet.
The taste of this pastrami is absolutely spot-on fantastic. It's just like a real pastrami, except you don't have to spend 3 or more days curing a brisket first. Trust me, this is delicious. The first time I made it I cut it with a knife. Second time, I used my meat slicer and the end result was fantastic.
The neighbor across the street had asked several times when I'd be making this again. So, I made it again yesterday. And this time, it was even better!
Makes: 1 pastrami
Prep time: 12 hours
Cook time: 8 hours+
Printable Recipe
Ingredients:
1 corned beef brisket (try to get one that is consistent in thickness)
2 tablespoons yellow mustard
3 tablespoons brown sugar
1 tablespoon ground coriander
1 teaspoon ground allspice
1/4 cup freshly coarse-ground pepper (see note)
Note: I buy whole peppercorns from the local GFS store and grind them using an old blade-style coffee grinder. Nothing beats fresh-ground pepper. Make sure you keep the grind a little coarse.
1. Rinse and dry the corned beef.
2. Whisk together the mustard, brown sugar, coriander and allspice. Rub the mixture all over the brisket, then cover completely with the ground pepper. Place in a large resealable bag in the fridge overnight.
3. The next day, fire up your smoker for 250 F. Place a chunk or two of light fruit wood in the smoker (I used cherry). Cook the brisket for at least 8 hours or until the internal temperature reaches 165 F. (Note: My second time making this I smoked it to 195 F and it was absolutely tender and tasty!)
4. Remove the brisket and place in a steamer over boiling water, for 30 minutes to 1 hour or until the internal temperature reaches at least 195 F. (You can skip this step if you smoke the meat to 195 F).
5. Remove, wrap in foil, and let rest for 30 minutes.
6. Thinly slice the brisket against the grain using a meat slicer or sharp knife. Serve.