I have made a
lot of variations on chili
. They were all very good. This one blows them all away. By a long shot.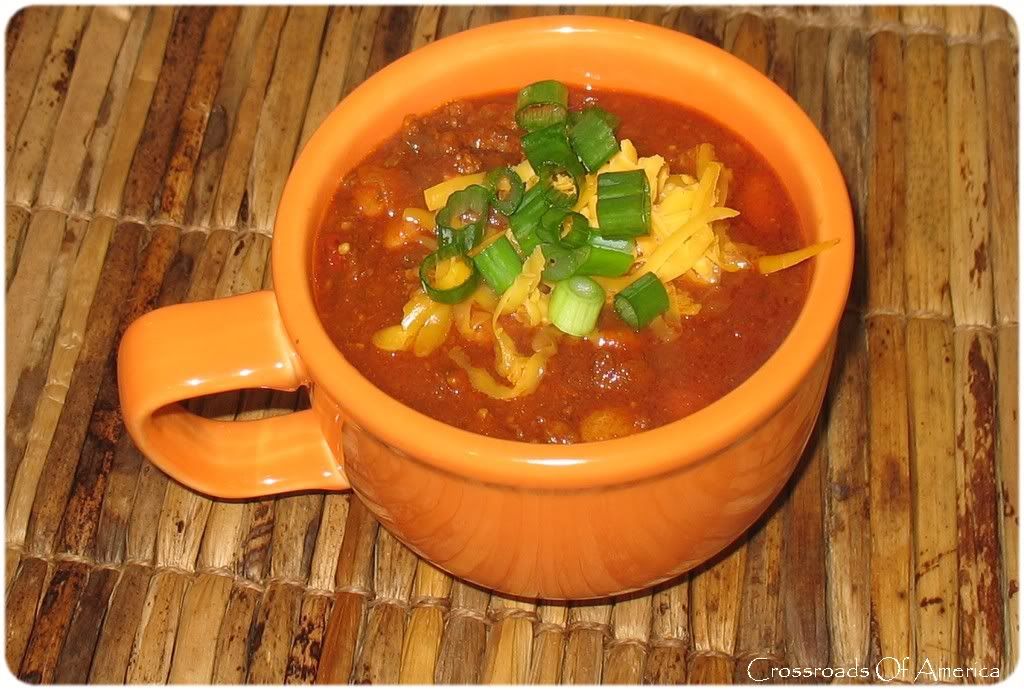 It has a lot of ingredients, and it makes a huge batch, but I can tell you it is well worth the effort. Eat it out of a bowl, over Fritos, on hot dogs, as dessert.... it's that good.
The
original recipe came from Guy Fieri
. I made only minor changes to it.
Makes: 12 servings
Prep time: 30 minutes (plus overnight if using dried beans)
Cook time: 2 1/2 hours (plus another 1-2 hours if using dried beans)
Printable Recipe
Ingredients:
2 tablespoons butter
3 tablespoons vegetable oil
2 red bell peppers, diced
2 jalapenos, seeded, minced
3 Anaheim chiles, roasted, peeled, seeded, chopped
3 poblano chiles, roasted, peeled, seeded, chopped
2 yellow onions, diced
1 head garlic, minced
1 pound boneless chuck, trimmed and cut into 1/4" cubes
2 pounds ground beef
1 pound bulk Italian sausage
2 teaspoons granulated onion
2 teaspoons granulated garlic
3 tablespoons chili powder
2 teaspoons hot paprika
2 teaspoons ground cumin
2 teaspoons ground coriander
2 teaspoons cayenne pepper
2 teaspoons salt
2 teaspoons freshly ground black pepper
2 cups tomato sauce
1 cup tomato paste
12 ounces lager beer
1 cup chicken stock
2/3 cup dried pinto beans (or 2 15 1/2 ounce cans)
2/3 cup dried kidney beans (or 2 15 1/2 ounce cans)
Green onions, shredded cheddar cheese, etc for serving
1. Soak the beans overnight if using dried beans.
2. Cook beans for 1-2 hours or until still a little al dente. Drain.
3. In a very large pot, melt the butter in the oil over high heat.
4. Add the peppers and onion and saute for 5 minutes.
5. Add garlic and cook another minute.
6. Add chuck and brown. Add the remaining meat and brown. Do not stir so much that you break up the ground beef. You want it to be somewhat chunky.
7. Add granulated onion and garlic, chili powder, paprika, cumin, coriander, cayenne and salt and pepper to taste.
8. Add in the tomato sauce and tomato paste. Stir.
9. Add the beer, chicken stock, and beans. Stir. Bring to a boil and reduce heat to a simmer. Cook at least two hours, stirring occasionally.
10. Serve with whatever you want (we love
Tillamook cheddar
on our chili!).