When I ran across this recipe from
Cully's Kitchen
I quickly put it on our week's menu. I had just made a big batch of homemade
spaghetti sauce
and I figured this would be a great way to use it.
This is one of those stick-to-your-ribs dishes. Tastes like a pizza, but easier to make!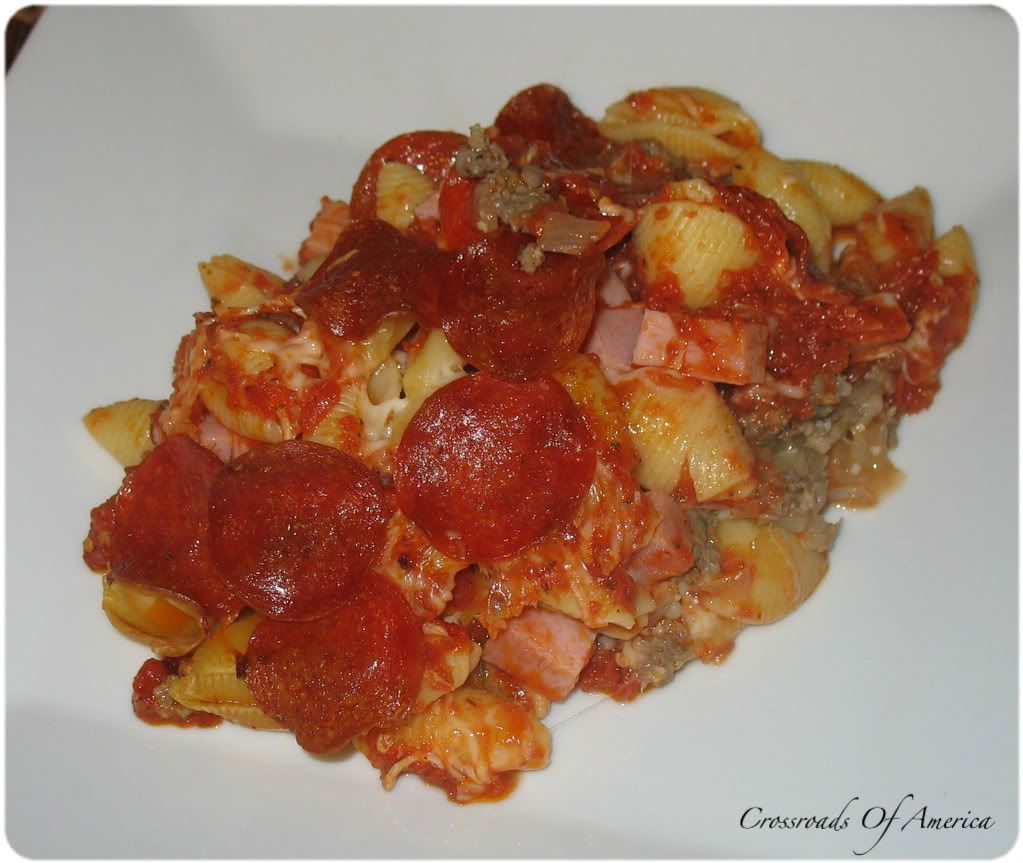 Makes: 10-12 servings
Prep time: 10 minutes
Cook time: 1 hour
Printable Recipe
Ingredients:
1 pound bow tie pasta (I used medium shells instead)
1 pound bulk pork sausage
1 large white onion, chopped
2 (26 ounce) jars spaghetti sauce (I used 5 cups of homemade sauce)
1 pound cooked ham, cubed
1/2 pound sliced pepperoni
3 cups shredded mozzarella cheese
1/4 cup freshly grated parmesan cheese
2 tablespoons garlic, minced
1 teaspoon dried oregano
1. Preheat oven to 375 F.
2. Cook pasta per package directions. Drain well.
3. Crumble the sausage into a large skillet and cook until browned over medium-high heat. Add the onions and cook until tender. Add the garlic and oregano and cook another 2 minutes. Remove from heat and let cool slightly.
4. Spray a 9" x 13" baking dish with non-stick spray.
5. Spread out 1/3rd of the pasta. Add 1/3rd of the sauce. Add 1/3rd of the sausage and ham. Sprinkle with 1/3rd of the mozzarella and pasta. Repeat for two more layers. Top with pepperoni.
6. Bake at 375° F for 40 minutes.