Oh me, these are good. If you're on a diet, throw it out the window. As Paula Dean says, "I ain't your doctor."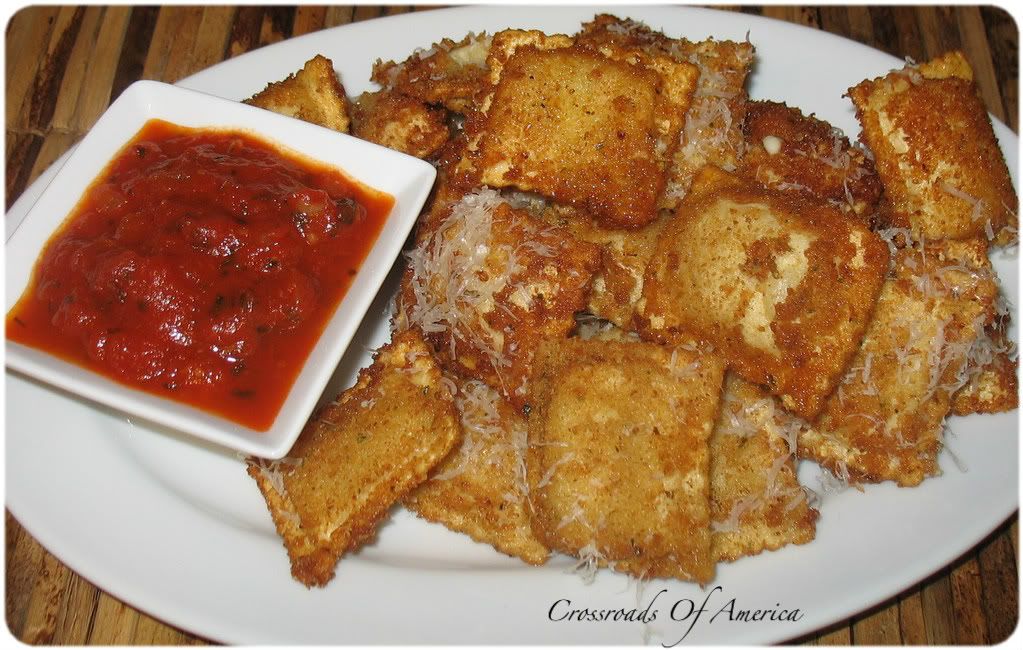 Of course, you can substitute store-bought sauce, but marinara sauce is so easy to make at home. The original recipe for the
ravioli
and the
sauce
came from the Six in the Suburbs blog, one of my favorites.
Makes: 4-6 servings
Prep time: 5 minutes
Cook time: 15 minutes
Printable Recipe
Ingredients:
1 pound frozen ravioli (I used cheese ravioli)
2 cups Italian bread crumbs
1/2 cup freshly grated Parmesan cheese
1 cup buttermilk
Oil for frying
Marinara sauce (see below)
1. Cook ravioli per package instructions. Drain well and let cool slightly.
2. Heat oil to 350 F.
3. Pour buttermilk into a large bowl or pie pan. In another bowl or pie pan, combine the bread crumbs and half of the cheese.
4. Working in batches, dip the ravioli in the buttermilk, shake off the excess, then dip into the breadcrumb mixture. Fry in the hot oil until golden brown (2-4 minutes). Remove to a paper towel-lined plate.
5. Sprinkle ravioli with remaining cheese and serve with warm marinara sauce.
For the marinara sauce:
Prep time: 5 minutes
Cook time: 35 minutes
Ingredients:
1 small white onion, chopped
3 cloves garlic, chopped
1 tablespoon olive oil
1 28 ounce can crushed tomatoes
1 tablespoon dried basil
2 teaspoon salt
2 teaspoon sugar
1. Heat oil in a large pot. Add onion and garlic and saute until tender.
2. Add remaining ingredients. Bring to a boil and reduce to a simmer. Cook at least 30 minutes. The longer you simmer it, the better it gets!